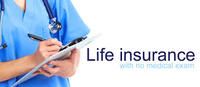 One of the ways to look at this issue, now slowly disappearing into the past due to the appearance of insurance brokers such as NoMedicalLifeInsurance, is through statistics. The pre-existing conditions to bar someone from obtaining life insurance without a medical exam have included stroke, heart problems, cancer, alcohol abuse, depression, and diabetes.
Statistics at any level, from the international to the municipal, easily show that all of these conditions are more than seldom present in our country's demographics. If one takes this into account, it appears that insurance brokers have, for decades, denied a substantial part of Canada's population life insurance coverage.
Take cancer, for example. The Canadian Cancer Society notes in their most recent reports that about 40 per cent of Canadians would be diagnosed with some form of cancer at some point in their lifetimes. Many would recover. Many would try to obtain life insurance. Until recently, most would be outright denied this coverage. If up to 190,000 people could be diagnosed with cancer this year, how can this condition be considered an exception that falls outside of something tolerated by life insurance brokers?
The Heart and Stroke Foundation in Canada talks about cardiovascular complications as one of the major reasons for hospitalization and death in the country. Thousands of Canadians would face these crises directly each year, and yet they have had, until now, little hope of providing for their loved ones through a life insurance policy. The same goes for thousands fighting diabetes, weight issues (including child obesity), and substance abuse. It appears that for many years the struggles that Canadians have faced were exacerbated by insurance brokers creating new excuses to disallow those with 'pre-existing conditions' to obtain life insurance without a medical exam. The situation has now changed: NoMedicalLifeInsurance.ca takes pride in helping everyone facing rejection elsewhere. Fair and straightforward life insurance coverage for all is now a tangible reality.
What makes NoMedicalLifeInsurance stand out from the regular crowd is the fact that they deal with you directly and personally, working hard to provide you with the best options based on your unique circumstances. With this company, no case is too difficult or obscure to handle. Every client is given the attention that they deserve. No attempts are made to hide behind tricky terminology. Failure is not an option.