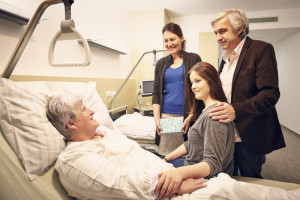 Looking for cancer insurance quote?
You've come to the right place. Cancer Insurance is new to Canada and we are experts in finding you the best possible rate without a medical exam. Immediate coverage is available for individuals age 18 to 70.
We work with 20 various insurance companies to find the best insurance option for you. Find out more about this particular insurance below.
If you are older than 70, please have a look at our section Seniors Insurance.
---
Get your tailored insurance quote
---
---
Cancer Insurance: What Is It?
We all know that of all the critical illnesses one can have, it's cancer that gets the most attention, the most resources and the most money devoted to it. This is certainly a reasonable concentration of effort given that more people die of cancer than any other critical illness. According to the Canadian Cancer Society, 29.8% of people die of cancer, which leads any other cause, so is it any wonder that cancer would have it's own brand of insurance as well?
Cancer Insurance is exactly what it sounds like: financial support to help you mitigate the cost of cancer treatment. While critical illness insurance covers at least 25 illnesses and provides the same financial support, cancer insurance focuses on one thing — cancer. This is why you need a cancer insurance quote for that protection
Like regular critical illness insurance, the coverage is paid out in a lump sum, which you can use without restriction in whatever way you like, whether it's paying your bills and meeting your financial obligations, paying for additional medical care, such as home care, a private room and alternative or naturopathic treatments, or paying for support services like childcare. There is no waiting period, as long as you are not diagnosed with cancer in the first 90 days of the policy being active, you get the money as soon as you are diagnosed with any of the varieties of cancer the policy covers.
Seems like a worthwhile investment, especially since the Canadian Cancer Society will tell you that two out of five Canadians will develop some form of cancer in their lifetime and on average, more than 500 Canadians are diagnosed with cancer everyday. Not only that, but the chances of survival has gone up considerably and now 62% of people with cancer are expected to survive after five years, so your financial needs will extend into the long-term, making cancer insurance much more important than life insurance.
As an added bonus, cancer insurance is much easier to qualify for than traditional critical illness insurance because there are fewer underwriting requirements. For example, when it comes to IA Excellence's Cancer Guard policy, you only have to answer the following two eligibility questions to qualify for up to up to $25,000:
Have you ever been diagnosed with AIDS or tested positive for HIV?
Do you have, ever have had, or noticed the signs and symptoms of cancer for which you have not consulted your physician yet, or are waiting for a test or test results for any form of cancer or malignant tumour?
If you answer "No" to two additional questions, one asking if a cancer insurance or critical illness policy you've applied for in the past has been postponed or decline by any insurance company, and the other asking if your immediate family has ever suffered from or been diagnosed with cancer before the age of 60, you will qualify for up to $100,000 in coverage.
Benefits of No Medical Cancer Insurance – brief overview
You can get 

up to $25,000 of tax free coverage

 with no medical tests and just two eligibility questions.
You can get 

up to $100,000 of tax free coverage

 with no medical tests and just four eligibility questions.
The benefit is payable upon cancer diagnosis and the 

coverage is guaranteed renewable up to age 75

.
Our non-medical cancer insurance

coverage takes effect from day one

.
Is it different from traditional critical illness insurance?
In contrast, traditional critical illness insurance puts a much more strict emphasis on whether you smoke or not and what the health history of your family is, than either cancer insurance or life insurance typically does. The build requirement (height and weight) is also much stricter on a traditional critical illness plan than it is for cancer or life insurance, so this is a big advantage cancer insurance has over regular critical illness insurance. While cancer insurance has recently become more popular among insurance consumers who acknowledge the overwhelming data supporting the risk of all kinds of cancer, it's actually not new to the insurance market.
It was created about 50 years ago by American insurance companies Aflac and American Heritage Life Insurance Company to meet an increasing demand that came from those who have a cancer diagnosis and their allies. The one drawback is that some cancer insurance policies don't cover every type of cancer. For example IA Excellence's Cancer Guard excludes the following cancers from coverage:
Carcinoma in situ
Stage "IA malignant melanoma
Any non-melanoma skin cancer that has not metastasized
Stage A (T1a or T1b) prostate cancer
Certain other cancers may be covered subject to an additional charge, such as breast cancer or prostate cancer.
Why do you need cancer insurance – financial aspects to know
Visit the Canadian Cancer Society website and you'll quickly learn that cancer is the leading cause of death for Canadians over any other possibilities. You'll also learn the sad reality that just in 2015 196,900 Canadians will develop cancer and 78,000 will die from it and most of these people will die of lung cancer, which is the leading cause of cancer death.
You may have noticed from those numbers though, that more people who are diagnosed with cancer will survive than ever before — 112,100 to be exact. When you're more likely to survive than to die, your life will continue and your financial obligations will keep cycling with no reprieve and added to that are the extra expenses associated with cancer treatment. Sure, healthcare is covered by the government in Canada, but that's only chemotherapy and care while in hospital. The rest of the time, it's up to the patient to pay for the costly out patient drugs that are part of their recovery. For example, anti-nausea medication will easily cost $23 a pill and Neupogen, (technical name: Filgrastim) which is a drug that treats the side effects of chemo (including preventing infection) costs $1,600 a month.
If you ask Julie Easley, a woman who bought those same drugs to treat her cancer, she'll tell you, just as she told the Globe and Mail, that once her cancer treatment concluded she was $26,000 in debt and,12 years later, she is now cancer-free, but she's still paying for her treatments. Of course, it's not just the out patient treatment costs you should be concerned about, don't forget the loss of income for being out of work for an indefinite length of time, which makes it virtually impossible to pay your mortgage or car loan. As of 2010, according to the Manulife Survey, the average mortgage size in Canada is $190,000. Of course, that says nothing of your other bills and incidentals, not to mention extra expenses on services like childcare. All of this adds up and, sure you may be able to get disability insurance through work to cover your loss of income, but very likely — depending on the definition of disability under your policy — disability insurance will not cover all of your expenses and maintain the quality of life and lifestyle that you had grown accustomed to before you were diagnosed.
This is all where cancer insurance can help and why it's so crucially important. Not only can it cover your expenses and maintain your income if you don't have disability insurance, but it can also supplement your existing disability insurance policy if you do have one. It can even supplement an existing traditional critical illness policy in the same way if you are diagnosed with cancer and not one of the at least 25 other illnesses only critical illness insurance will cover.
Some cancer insurance policies, such as IA Excellence's Cancer Guard do offer a critical illness rider on their cancer insurance policy, so critical illness insurance can be added to their cancer insurance policy, at your option, for an additional cost. Truthfully though, the odds of being diagnosed with cancer is so statistically high compared to other illnesses (29.8% — the leading cause of death in Canada) that you shouldn't be asking yourself, "Why cancer insurance is a must-have," You should be asking yourself, "Why wouldn't it be and why don't I have it right now?" Cancer is not to be trifled with and fate should not be so recklessly tempted with the odds stacked against you when it comes to the likelihood of diagnosis (two in five people will be diagnosed). Remember, life insurance pays out when you die, (You never get to see that money) but cancer insurance helps you fight to insure that you survive. After all, so many more people are beating cancer these days, so why shouldn't cancer insurance help you become one of them?
Interested to find out more about this insurance?
We put for you additional information on this relatively new type of insurance. Simply select below the section that you are interested in.
What Is It?
Why It's a Must-Have
Our insurance advisors will assist you with finding the best insurance option across more than 20 insurance companies. We look forward to hearing from you – simply complete the form above.
---
Full list of insurance companies that we work with