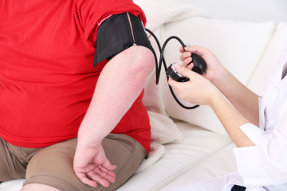 Not sure if you can get a life insurance with obesity?
Obese people can get traditional life insurance, but, depending on the severity of their weight, the policy will likely be rated or declined. A rated policy means the insured pays a higher premiums based on the extra risk.
Guaranteed issue life insurance is a decent insurance option for the 61% of Canadians who are obese and may be concerned about being declined for traditional life insurance due to health issues.
We work with
20 various insurance companies
to find the best insurance option for you. Find out more about your options
below
.
Get your quote for obesity and life insurance
---
Examples of life insurance for people with obesity
Person:
36, male, smoker, somewhat obese, Term 15 policy, $250,000 coverage

Estimated monthly rate:
$62.64
Person:
44, female, non-smoker, heavily obese, Term 20 policy, $250,000 coverage

Estimated monthly rate:
$57.92
Person:
54, female, smoker, somewhat obese, Term 10 policy, $150,000 coverage

Estimated monthly rate:
$89.20
---
---
More about medical life insurance policies
No medical life insurance policies can be broken down into two types:
Guaranteed Issue Life Insurance and Simplified Issue Life Insurance. Guaranteed Issue Life Insurance has
no medical tests and no health questions
, while Simplified Issue Life Insurance plans have
no medical tests and a few health questions.
Most permanent simplified issue policies do not have a weight question. However, most
simplified issue
term policies do have weight-related questions.
Illustratory premiums calculation for obesity and life insurance
For example, a 40-year-old non-smoker may normally pay $630 a year for $500,000 of Term 20 life Insurance and with a rating that premium would jump anywhere from $900 a year to $2000 a year. If a policy is going to be rated over 350% of the regular premium, it will likely be declined. So, if any applicant is going to heavily rated or declined, a
no medical life insurance policy would likely make more sense for them
.
Things to consider when choosing no medical life insurance
You should consider some of the following benefits when choosing between
Simplified Issue
life Insurance and
Guaranteed issue
life insurance:
Simplified Issue life Insurance policies
can pay out from day one
. Guaranteed Issue policies have a
deferred death benefit
, meaning that if the insured were to pass away in the first two policy years, the death benefit would be limited to a return of premium plus interest. Markham Insurance broker Syed Raza notes that many direct Guaranteed Issue Life Insurance providers are providing coverage with a deferred benefit when the insured would actually qualify for a plan with an immediate payout.
Simplified Issue plan offer
higher face amounts (i.e. coverage size)
than Guaranteed Issue life insurance policies. Most guaranteed issue policies offer maximum face amounts of $25,000, but Raza points out that 
BMO Insurance
 just increased its face amount limit on its Guaranteed Life Plus plan to $50,000 at certain face amounts.
Simplified Issue life insurance offers
lower premiums than guaranteed issue coverage
. The premiums on simplified Issue plans can be over 30% less than guaranteed issue plans Some Simplified Issue providers offer
escalating benefits
, meaning the death benefit rises in line with inflation. An example of this is 
Assumption Life's
Golden Protection Plus, which increases by 3% each policy year, but the premiums remain level for life.
Fellow insurance broker Jack Bendahan says, "Many people are shocked that applicants who are a 100 pounds overweight or more can get life insurance protection with an immediate death benefit, but the truth is, obese people have many options when it comes to life insurance, they just have to make sure they are working with the right broker."
Our insurance advisors will assist you with finding the best insurance option as we work with
more than 20 insurance companies
. We look forward to hearing from you – simply complete the form above.
---