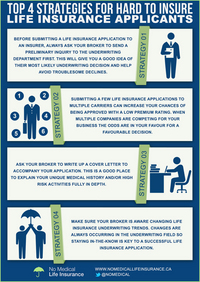 If you have pre-existing medical conditions, it can be not easy to get a life insurance policy. WE created this infographic to inform you about 4 strategies to find the best insurance for pre-existing medical conditions.
Strategy 1: Preliminary inquiry
Before submitting a life insurance application to an insurer, always ask your broker to send a preliminary inquiry to the underwriting department first. This will give you a good idea of their most likely underwriting decisions and help avoid troublesome declines.
Strategy #2: Application to multiple carriers
Submitting a few life insurance applications to multiple carriers can increase your chances of being approved with a low premium rating. When multiple companies are competing for your business, the odds are in your favor for a favorable decision.
Strategy #3: Cover letter
Ask your broker to write up a cover letter to accompany your application. This is a good place to explain your unique medical history and/or high risk activities fully in depth. This letter is also useful to go hand in hand with your resume, which explains all previous workplaces, current workplaces, and skills. If you are lacking in either of these documents, look to tennessee resume writing companies, or resume writing companies near you, to resolve this issue.
Strategy #4: Choose a broker who knows the trends
Make sure your broker is aware of changing insurance underwriting trends (e.g. related to e-cigarettes). Changes are always occurring in the underwriting field so staying in-the-know is key to a successful life insurance application.
Our insurance brokers work with more than 20 insurance companies in Canada and have extensive experience of helping those who need insurance with pre-existing medical conditions. Fill out the form in order to get your tailored insurance quote or simply find out more about insurance for your particular case.