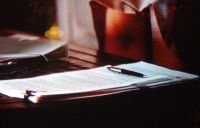 RBC and BMO have almost identical guaranteed issue plans.
BMO Insurance and RBC Insurance are battling it out with independent brokers for a share of Canada's guaranteed issue marketplace.
These policies, generally used to fund final expenses, are an after thought to many brokers, but Insurance companies are starting to see the value in offering these plans.
Both BMO Insurance and RBC Insurance offer their plans direct and below is a comparison. The coverages are almost identical, but there are truly   some slight nuances that separate them.
BMO Insurance                                       RBC Insurance
Plan Name?  Guaranteed Life Plus     Guaranteed Acceptance Life
Issue Ages?   40-75                                     50-75
Coverage Bands? Yes, six coverage bands based on premiums:
$20, $30, $75, $100 and $120 a month for  $3,500, $5000, $10,000, $15,000, $20,000 and $25,000 in coverage.
Accidental Death Built-In Top Up? Yes, five times the basic face amount.
Two-Year Waiting Period on No Accidental Deaths? Yes
Discount for Non-Smokers?  Yes
Are there Health Questions? No, just a smoking declaration question.
Premiums for a 60-year-old, male non-smoker?  $15,000 – $80.28 a month $13,050 – $75 a month
Broker sold Guaranteed Issue plans include The Edge and Bingham Group Services Guaranteed Issue Plan, underwritten by Foresters.
Hard to insure applicants should always first see if they qualify for simplified issue life Insurance plans, which have lower premiums, higher face amounts and can provide coverage from day one.
Simplified Issue plans have no medical tests and a short series of health questions. Some plans have as few as two questions.