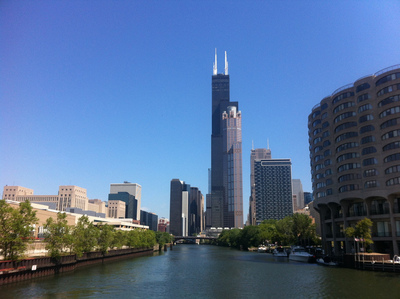 Turns out, living in Chicago will increase your likelihood of a heart attack — and it's not because of the famous deep dish pizza.
According to Mercola and an article published by Scientific American, Chicago isn't just one of the most violent cities in America, but it also has harmful chemicals from personal care products in its air.
The levels of these chemicals are ten times higher than normal, and they can be harmful to aquatic animals and wildlife, but there's no scientific confirmation that breathing it in is harmful to humans. Still, the air quality in Chicago is on the brink of of federal review, and Mercola reports that air pollution from motor vehicles has a strong link to heart disease.
The research comes from a German study, which reports that air pollution is strongly linked to atherosclerosis.
The study was based on data from the German Heinz Nixdorf Recall Study, a population-based cohort… with a mean age of 60 years… Results showed that in the 4,238 subjects included in the study, small particulate matter and proximity to major roads were both associated with an increasing level of aortic calcification—for every increase in particle volume up to 2.4 micrometers the degree of calcification increased by 20.7 percent and for every 100 meter proximity to heavy traffic by 10 percent.
A related study also found that noise pollution is also linked to heart disease, and now it has been confirmed that both air and noise pollution are independent risk factors for a heart attack.
These two major types of traffic emissions help explain the observed associations between living close to high traffic and subclinical atherosclerosis… The considerable size of the associations underscores the importance of long-term exposure to air pollution and road traffic noise as risk factors for atherosclerosis.
In addition, both traffic noise and air pollution increase your risk of cardiovascular issues through the same effects — both by sending your autonomic nervous system out of balance. Your autonomic nervous system is what controls your most vital life sustaining functions, such as blood sugar levels, blood pressure, viscosity, and clotting. The main culprits for heart disease through vehicle pollution include all the usual suspects, like carbon monoxide, nitrogen dioxide, sulphur dioxide, and particulate matter.
It's difficult to get life insurance if you've just had a heart attack, but that doesn't mean it's impossible. You can choose between traditional life insurance, which always comes with health questions and medical tests, or you will probably have better luck with no-medical life insurance options. Simplified Issue insurance options come with a few health questions, but no medical tests, and guaranteed issue insurance has no health questions and no medical tests.
On simplified issue policies, there's usually a question about heart attacks, but if the heart attack was more than two years ago and you haven't switched medication, you can still qualify for coverage.
It's important to note that if the insured applies for a traditional life insurance plan and is declined, obtaining a simplified issue non-medical life insurance plan might be difficult.
Many simplified-issue life insurance policies offer coverage from day one. However, guaranteed-Issue policies have a two-year waiting period, which means that if the insured dies in the first two years by a non-accidental death, the payout is limited to a return-of-premium plus interest.
For more details on No-Medical Life Insurance in Canada, please contact us at 1-866-899-4849 or visit our Non-medical Life Insurance Quote Page.