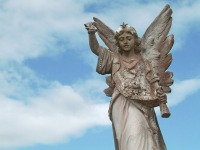 Life insurance will now cover funeral expenses and a lot of funerals offer different services that may accommodate your needs – view website here to learn more. Funeral costs can vary widely in Canada, depending on which features you're looking for. Some funerals can feature grand elements to celebrate the persons life. On some occasions some people even wish to go eco-friendly and become a tree when you die. As a tree lasts for hundreds of years this is a great idea. but the average cost is around $4,500, according to the Toronto & District Funeral Directors Inc. Below are four ways to cover these costs:
1. Prepay your funeral expenses — According to Canada's Federal Income Tax Act, income earned on prepaid deposits can build up tax-free. The maximum contribution limit is $15,000 for funeral services and $15,000 for cemetery services for a total of $30,000.
2. Use savings to cover these costs — The problem is, some people don't have money set aside to cover the costs, and they don't like the idea of leaving less money for their loved ones for other things just so they can cover a funeral.
3. Set aside money on a monthly basis to cover the cost of your funeral — This is a good idea, but what happens if you pass away before your monthly contributions equal the amount necessary to cover the cost of your funeral?
4. Buy a life Insurance policy to over your funeral expenses — Life insurance pays out on a tax-free basis, and guaranteed issue life insurance policies are available without a medical exam with no health questions. The one caveat with guaranteed issue policies is that if the insured passes away in the first two years by way of a non-accidental death, the benefit is limited to a return-of-premium plus interest.
Many simplified issue policies are also available on a no-medical basis, but those have a short series of health questions, and many of those plans are available with coverage from day one.
For more details on no-medical life insurance in Canada, please contact us at 1-866-899-4849 or visit our No Medical Life Insurance Quote Page.