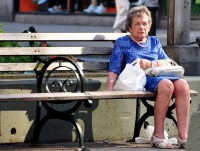 We all know that as you get older, your health becomes much more of a concern and many assume that their various health problems, along with their advancing age will disqualify them from being able to purchase life insurance.
Depending on the severity of their health concerns and how old they are when they apply, this is very much still true when it comes to traditional life insurance. At the very least, if you are not declined, you will receive a rating, which could see you paying as much as 120% more than the regular premium.
Thankfully, there's another solution. There is such a thing as seniors' no medical life insurance. This is insurance that comes in two varieties, either guaranteed issue or simplified issue. Guaranteed issue policies have no medical tests and no health questions, so there's no chance of being denied the coverage.
Simplified issue policies have no medical tests, so there are no blood and urine tests, but there are a few medical questions. In fact, the more medical questions there are, the more the face amount of the coverage will be. You must be able to answer "No" to all the health questions in order to qualify for coverage.
More and more insurance companies are offering seniors' no medical life insurance, which means that those older than 65 are still eligible for coverage because the issue ages are over 65. There are drawbacks though, in the sense that the premiums are more expensive than traditional life insurance because the insurance company is assuming all kinds of risk because they disqualify nobody from these plans.
Also, the coverage amounts are smaller than the amounts available through traditional life insurance channels. There is also virtually zero flexibility and customization available with the plans. For the most part, you get what you get and that's it. Any brokers worth their certifications, will encourage you to go for traditional life insurance first because you have more options there. Of course, you'll need to be in good health. If you are in excellent health, you may qualify for preferred rates, which could possibly give you a premium discount of up to 50% off.
Traditional life insurance policies offer more flexibility with many different riders and single payer or joint-life variations. You can also get more pricing variation and coverage amounts with traditional life insurance. You will be able to find any policy that can fit your financial and family situation. Any broker worth their certifications will tell you to try a simplified issue no medical plan first and then apply for traditional life insurance. This way, if you're denied for the traditional plan, you will still have some coverage from the no medical plan you qualified for and because it's simplified issue, coverage events will be slightly higher than they would be with a guaranteed issue policy.
So, just because you're a senior, doesn't mean you're automatically shut out from life insurance. In fact, you can still very much protection yourself and your family regardless of your health situation.