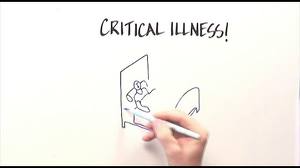 We sleep better with the knowledge that we have done our due diligence in researching the types of insurance, getting the best quote, ensuring all the riders are applicable to our current and potential future needs, and having all the right pieces in place with the hope that we will never have to really see if we have all the right pieces. For example, if you are looking to purchase car insurance, you could look into something like one sure insurance reviews to help you make better decisions on what policies to buy, from reading customer reviews.

Unfortunately, for many people, it becomes inevitable that the insurance becomes needed. At that moment, when you experience the need for it first hand, the right decisions become your life lines. Critical illness insurance becomes your lifeline; and getting a critical illness Insurance quote should be a common consideration for everyone."Insurance is one of those things that we know we need, that we get in the hope that we will never need to use it, and when we have to use it, we hope we have the right kind and the right amount."
Critical illness insurance was founded by Dr. Marius Barnard, with the first critical illness product being in 1983 in South Africa, under the name "dread disease insurance". Dr. Barnard, who worked on the first human heart transplant, became so frustrated watching patients' financial struggles as he treated them that he convinced insurance companies in his native South Africa to create the product. Four conditions were covered by the policy at that time: heart attack, cancer, stroke and coronary artery by-pass surgery. Since that time, the cover has been accepted into many insurance markets around the world. Other names of the insurance cover include: trauma insurance, serious illness insurance and living assurance. Although they differ from company to company, typical illnesses and diseases covered by critical illness insurance may include: cancer; heart attack; stroke; blindness; Alzheimer's; multiple sclerosis; organ transplants; kidney failure; HIV/AIDS; Parkinson's Disease and paralysis.
Critical illness insurance (or critical illness cover) is an insurance product where the insurer is contracted to typically make a lump sum cash payment if the policyholder is diagnosed with one of the critical illnesses listed in the insurance policy. If you become sick with an illness covered by your policy and survive the waiting period, you receive a lump sum cash payment. You decide how to spend the money – the finances received could be used to pay for the costs of the care and treatment, pay for recuperation aids, replace any lost income due to a decreasing ability to earn, or even fund for a change in lifestyle.
Part of the process in getting a critical illness insurance quote is to determine ones need for critical illness insurance. First, you should consider benefits that may already be available to you through other insurance policies, such as life insurance and group health insurance. For example, the benefits offered through some employer's group disability plan may provide appropriate and adequate coverage in the event of a critical illness. When shopping for a critical illness plan, you should consider your income, financial obligations, dependents, and health care needs.
Looking for life insurance without a medical exam? Looking for the best quotes for your insurance needs including a critical illness Insurance quote?
NoMedicalLifeInsurance.ca is an initiative of independent insurance expert Tamara Humphries and LSM Insurance. They have unique expertise in finding the best possible rate on life insurance without a medical exam. Immediate coverage is available for individuals age 20 to 85. Their team has access to and uses the most up-to-date financial planning software from their insurance carrier partners. They focus on personalizing each insurance search, preparing the best possible package for each client's specific situation and needs.