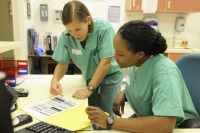 You can get protection against cancer without a medical.
Cancer is the leading cause of death in Canada.
Two out of five people develop cancer during their lifetimes and on average more than 500 Canadians are diagnosed with cancer every day. In recent years however, the survival rate has increased.
Sixty-two per cent of those diagnosed are expected to survive their battle in the first five years, according to the latest statistics from the Canadian Cancer Society.
With the higher survival rate in mind, IA Excellence's Cancer Guard Insurance pays up to $100,000 in the event of diagnosis. This money can be used anyway the insured likes. For example, it can pay off a mortgage, car loan, credit card or cover additional medical care expenses, such as home care or professional services and can also cover any unforeseen expenses. The best part is, anyone under age 65 is eligible for this insurance and no medical exams are required.
The insured should be aware of the following exclusions:
No benefit will be payable if within the first 90 days, following the effective date of the policy, the insured has any signs, symptoms or investigations leading to a diagnosis of cancer, or has been diagnosed with cancer outright. The coverage will not apply and no benefit will be payable if the cancer or one of the covered critical illnesses, occurs within the first 24 months following the effective date on the policy. The same exclusion exist if you exhibit symptoms or take any medications that lead to cancer 24 months prior to the start of the policy.
IA Excellence also allows the insured to top up their cancer insurance by adding additional critical illness protection and an additional rider can be added to cover strokes, coronary artery bypass surgery, heart attack, paralysis or coma. For juvenile critical illness plans, the following illnesses can also be added: cerebral palsy, congenital heart disease, cystic fibrosis, muscular dystrophy and type 1 or type 2 diabetes.