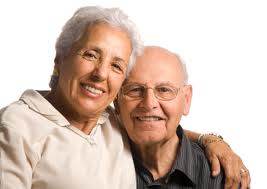 It is important for every individual to invest in life insurance, but it is even more important for those who are in a higher age category, as they are more susceptible to factors such as illness and possible death. Seniors' life insurance and more specifically, seniors' term insurance, is important to ensure financial security for medical and other bills relating to death and health issues.
Seniors' term insurance is purchased for a set amount of years, hence the "term" in the name. Once the set time limit has run out, the life insurance is no longer valid. It is, however, available for renewal, but the new price will often be higher than it was before. The benefits of this plan include lower premiums and the ability to provide coverage for a set number of years. Perhaps you only wish to purchase your life insurance at a certain age, and want to keep it until you think you will need it until – this plan has the ability to do that. Another excellent benefit is that when you purchase a seniors' term plan with NoMedicalLifeInsurance.ca, you are not required to undergo a medical exam or provide a medical report. You will be provided with a low rate and excellent coverage no matter what your health standing may be, and you do not need to disclose your condition should you not wish to.
Along with providing you with a cost effective and extensive plan, we can help you determine how long you will need your seniors' term insurance. It is important that you purchase your insurance for the correct amount of time needed as to not pay unnecessary premiums if you will not be using it. Now is the time to start looking into purchasing term life insurance. It is crucial to purchase insurance before you become critically ill and leave the opportunity open for your premiums to increase. Waiting is the worst thing a person can do when it comes to financial security.
If you are unsure about what type of insurance you wish to purchase, turn to senior's term insurance. A short term policy can be the best move when you need to purchase senior's insurance now, but don't have the time to discuss and look into longer term plans. While your plan is still active, we can work with you to find a longer term plan that will better fit your needs.
When looking for a seniors' term insurance coverage, turn to NoMedicalInsurance.ca. We have been a leading online insurance company for quite long time, and strive to give our customers the best service possible. NoMedicalLifeInsurance.ca is an initiative of independent insurance expert Tamara Humphries and LSM Insurance. We will provide you with a free insurance quote and start you on your way to the ultimate coverage.
For all of your seniors' term insurance needs, turn to NoMedicalLifeInsurance.ca for your free quote today.