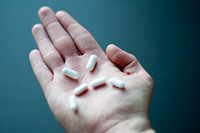 As a senior citizen, health certainly becomes an issue the longer you live, but that doesn't mean you're immediately disqualified from life insurance. Particularly if you have a pre-existing condition.
It's true, you may not qualify for traditional life insurance because you may not be able to pass the medical exams, like the blood and urine tests, or answer the health questions, but that doesn't mean you are shut out of life insurance for good. First of all, you may still qualify for traditional life insurance, but if you do, you will no doubt receive a rating, which will raise your premium by at least 50% compared to the basic premium payment.
To avoid a rating or being declined all together, but still getting life insurance coverage to inoculate your family from losing your source of income when you pass away, you basically have two distinct options.
These options are either a simplified issue or guaranteed issue life insurance policy. A  simplified issue policy has a few health questions, but no medical tests. The traditional rule of thumb is the more health questions there are, the larger the face amount of the coverage is.
If you have a pre-exisisting condition, you'll be able to qualify through a simplified issue policy if the health questions do not pertain to your condition or if it doesn't ask if you have a pre-exsisting condition. It's recommended that you work with an experienced life insurance broker who can find you a simplified issue policy that avoids the subject of pre-exsisting conditions.
But even if you can't, there's still hope for you. Guaranteed issue policies are the other option and probably the best option for those with pre-existing conditions. This is because guaranteed issue policies include no health questions and no medical tests of any kind. This way, you can qualify for life insurance coverage without stress. As long as you can pay the premium, the life insurance coverage is yours and absolutely guaranteed with no questions asked.
However, there are definitely some drawbacks to a guaranteed issue policy that those with pre-existing conditions should be aware of. First, since the risk the life insurance company is taking on is higher for them, (due to potentially insuring people with major health problems that could cause death and a payout sooner than average) the premiums that you will have to pay are higher than the premiums offered to those who qualified for traditional life insurance. Along with paying more, the face amount of the coverage itself is likely less than the amount of coverage you can get from a traditional life insurance policy, so you won't be covered quite as much. There is also likely not much flexibility. If you buy a guaranteed term insurance policy for example, you likely wouldn't be able to convert it to a permanent plan. There are also not many riders available on guaranteed issue plans, so there is not much flexibility in terms of add-ons.
However, if you have a pre-exsisting condition, it is no doubt better to be able to obtain some life insurance than none at all. After all, piece of mind and the ability to protect your family, even if it is to a limited degree, holds an absolutely priceless value when you truly think about it.