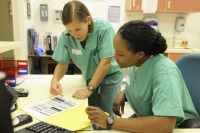 Assumption Life Is a leading provider of no medical life insurance. They have a variety of plans available without a medical.
Assumption Life's Flex Term plans have no medical tests, but have a full range of health questions similar to those found on traditional life insurance plans. Their Golden Protection plan offers coverage on a deferred and immediate issue basis. The plan has face amounts of up to $50,000, no medical tests and ten health questions.
Assumption's Total Protection Plan, which is also a no medical plan, has the least stringent qualifications for coverage, with only three health questions on face amounts up to $30,000. If the  face amount requested goes above this amount, some extra questions are asked.
Additional details on this plan include:
The plan is available for individuals from 18 to 80 years of age.
There's no waiting period for accidental death coverage.
 The premiums are reimbursed at 3% interest, if death occurs in the first two years.
The insurance amount doubles in the case of accidental death.
A cash value is available from the third anniversary of coverage.
Living Benefits coverage is included at no additional cost.
For more details on no medical life insurance in Canada, please contact us at 1.866-899-4849 or visit our No Medical Life Insurance Quote Page.