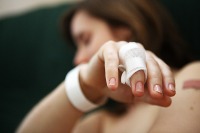 You can still get term insurance if you're unhealthy.Many brokers used to steer clear of unhealthy clients.The reason for this avoidance was twofold:
1) Unhealthy clients often drained their resources. Applications can be submitted to the insurance company and spend months in the underwriting department.
2) Options outside of traditional life insurance policies were once limited, especially in the term insurance market.
However, things are changing in the hard-to-insure market. Insurance companies are constantly revamping their underwriting protocols, and many brokers are taking advantage of preliminary inquiries to weed out the number of applications that would normally result in an automatic decline. Obviously, it makes no sense to submit a life insurance application if the client is undoubtedly going to be declined.
"The client is worse off if they are declined for a life insurance application, as it limits their options in the simplified issue life insurance marketplace," says Chantal Marr, president of LSM Insurance.
Brokers who have a good relationship with different underwriters can find out if certain applications are going to be declined by submitting a preliminary inquiry.
Clients who just had a heart attack, current hard drug users, and those whose blood sugar levels are way out of whack will all be declined immediately for traditional life insurance.
Looking at a simplified issue policy (an insurance plan with no medical tests and a short series of health questions) is likely an unhealthy client's best option.
Canada Protection Plan (with plans underwritten by Foresters Life) has several simplified issue term policies. They have Term 10, Term 20 and Term 100 plans, which pay out on an immediate-pay basis or a deferred basis. Industrial Alliance also offers a Deferred Term 20 policy, which insures applicants age 20 to 70 with up to $100,000 of coverage.
There is one caveat, though: the plan has a two-year waiting period on non-accidental deaths. But, on the plus side, the return-of-premium comes with 5% interest. In contrast, Canada Protection Plan's policy offers a return-of-premium interest rate is 3%.