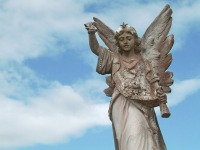 Burial insurance is also known as pre-need or final expenses insurance and is meant to cover final expenses when the policyholder passes away.
Most final expenses insurance policies offer coverage amounts between $5,000 and $25,000. For many it's vital that they have a policy in place to cover these last costs because most funerals in Canada exceed $10,000 in price. There are also various tax liabilities, final medical expenses and various unexpected ongoing costs that can reveal themselves up until the estate is finally settled. This makes final expenses insurance vitally important to reducing the financial stresses of your family as they perform their last acts on your behalf.
Final expenses insurance plans generally come in guaranteed issue and/or simplified issue varieties. Guaranteed issue policies are no questions asked plans and are qualified for immediately because there are no medical exams , such as x-rays, blood and urine tests, and no health questions. There are drawbacks of course, since the insurance company is taking on more risk by not knowing your health history. As a result, the coverage amounts are usually smaller than they would be for traditional life insurance plans and the premiums are usually more expensive than what's offered by those plans as well. Simplified issue plans also offer no medical tests and a few "Yes" or "No" health questions. These plans usually have higher face amounts than guaranteed issue plans, depending on the number of questions the applicant is required to answer. Both guaranteed issue and simplified issue burial insurance varieties are usually issued to those age 45 and over.
The plan itself is essentially a permanent life insurance policy that pays out a lump sum, tax-free death benefit that can be used to cover final expenses. Traditional whole life insurance plans, including Term 100 and Universal Life, can be used for final expenses as well, but the applicant could be subject to medical exams and health questions. Should they qualify for traditional life insurance, clients can enjoy as much coverage as they need and there may be discounts for non-smokers or a multi-life discount for more than one person on the same policy. There are also a variety of different permanent insurance plans at various premium levels, including premiums that remain level for the life of the policy. So, while the hurtles to qualify are numerous, the benefits are much more numerous and flexible than those offered by guaranteed issue and simplified issue plans.
This is why guaranteed issue and simplified issue plans are only really recommended for those with health issues that would otherwise disqualify them from a traditional life insurance plan. Sure, they might still be able to get the plan, even with health issues, but it would come with a modification, such as a rating, which would see the client paying up to twice the normal premium. One thing the client can do if they wish is apply for a guaranteed issue plan, so that they have at least some insurance coverage should they be declined for a traditional permanent insurance plan for final expenses. If they are approved for both plans, they can use the guaranteed issue policy to supplement the coverage on the traditional life insurance plan.
On guaranteed issue plans the full benefit is not usually paid until the plan has been in force for at least two years, unless the insured dies under accidental circumstances. What qualifies as an accidental death is determined by the insurance provider. If the death occurs due to non-accidental circumstances in the first two policy years, the beneficiary typically receives a return-of-premium, plus interest. In a traditional insurance plan, such a caveat doesn't always exist – it really depends on the plan.
In any case, it's important to work with an independent broker, as captive agents only have access to the plans provided by the companies they work for, while independent brokers can investigate a wide variety of plans. They can also advocate on your behalf, explain the underwriting process in layman's terms and make sure you don't make any mistakes on your application and the medical tests are administered safely and properly. Most crucially though, they can find you the best available price and the best plan for your family situation.