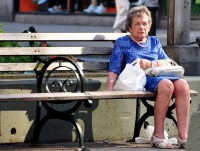 It's a common misconception, but life insurance for seniors is not as limited as you may think. the reality is, the options are plentiful when discussing life insurance for seniors, but it's just a matter of knowing where to look and which broker to work with.
So what are the different types of life insurance available for seniors:
1. Traditional life insurance policies.
Seniors life insurance policies under this category require the's the insured to complete medical tests and to answer a full series of health questions.
Traditional life insurance policies for seniors can be term life insurance policies, where the premiums are level for a stated term (like 10 years or 20 years) these policies start off lower in cost, but go up as the insured gets older. They also expire after the term and need to be renewed at a higher premium.
Permanent life insurance policies start off higher in cost, but the premiums generally remain level. Most Canadian insurance companies have been increasing their permanent life insurance rates in response to historically low interest rates in Canada.
In fact, some companies have opted to give consumers a break on escalating prices for Adjustable Permanent plans. These plans are available as a Term 100 from Empire Life and as Universal Life from Industrial Alliance. They spread the risk for consumers because If interest rates decrease, the premiums go up and if interest go up, the premiums go down.
The other type of seniors life insurance policy is the following:
2. No medical life insurance
These policies can come with either no health questions or a short series of health questons. The former, often referred to as a guaranteed issue policy, has a lower face amount and is generally only available as a permanent policy. Guaranteed issue policies also come with a waiting period, meaning that if the insured dies in the first two policy years, their family will only get a return of premium. In some instances, they will not receive any interest back.
Most Guaranteed Issue policies are sold direct by the insurance company. Two popular life insurance policies for seniors that are sold this way are from Manulife Financial and BMO Insurance.
The other type of life insurance plan for seniors available without a medical is called Simplifed Issue Life Insurance. These plans also have no medical tests, but have anywhere from two to 12 health questions. Some of the more popular providers of simplified issue life Insurance are Assumption Life, Canada Protection Plan, Industrial Alliance and Wawanessa.
Most Simplified Issue are available on an immediate-pay basis and a deferred-pay basis. The immediate pay plans have more stringent health questions.
Simplified Issue Life Insurance plans are available as Permanent or Term Plans. The face amounts are more limited than traditional policies, but the insured person can combine carriers to increase the amount available.
A recent entrant to this market is Humania Assurance, which now offers up to $300,000 of No Medical Term 10 or Term 20 Life Insurance with three classifications, Gold, Silver or Bronze. The more questions the insured can answer "No" to, the better the classification and the lower the premium.
Markham-based broker William Shung works with seniors looking for life insurance frequently and stresses that it is crucial that they know what their options are before applying.
An applicant with health issues who applies for a traditional policy and is declined limits his or her options going forward. They would be better off applying for a simplified issue life insurance policy and should then subsequently look into a traditional life insurance plan afterward.