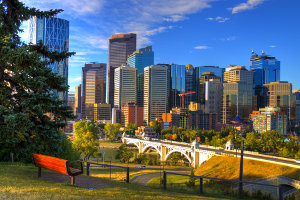 Calgary is home to just over one million residents (2011 Census), with a large proportion of them being between the ages of 20-49. Of the 464,000 households residing, over 57% of them are couples, both with and without children. A large metropolis with a small town heart, Calgary is one of Western Canada's largest economic powerhouses. Calgary is home to many oil and mining companies, as well as technology firms and publication houses. A largely English-speaking city, it is also home to a growing community of people from all over the world, there to embrace the challenges and rewards of being at the heart of a Canadian economic engine.
Finding the right fit
At No Medical Life Insurance, just as they do at
PolicyMe.com
, we understand that the insurance needs change over time. A single person in their twenties does not need the same coverage as someone married with children does, and priorities shift as circumstances change. The right
life insurance
in Canada is there to protect your family and give them peace of mind in case the worst happens. Life insurance is not about paying for a funeral, but about protecting those that can be left behind. And whether you are a tradesperson working a twelve hour shift, a CFO handling multinational accounts, or a new arrival hoping to start a better life, we can find the right coverage for you. We offer both simplified issue and guaranteed issue no medical life insurance plans, critical illness coverage, health insurance, and provide life insurance quotes on both permanent and term insurance plans from a wide range of companies to find the one that suits you best. This is because we know how difficult it can be for you to get good life insurance coverage if you have a pre-existing condition such as diabetes. Luckily there are
Special Risk Managers
that provide insurance to those who suffer from these pre-existing conditions. If you're looking for life insurance in Calgary, but want to avoid medical exams, the insurance experts at NoMedicalLIfeInsurance will help you assess your insurance needs so you can find your ideal coverage.
Continue reading
below
or
fill out the form below to get a life insurance code tailored for your particular situation
Get your quote for life insurance for people with preconditions
---
---
What type of no medical life insurance in Calgary do you need?
As with some life insurance companies in Canada, insurance companies in Calgary offer life insurance without medical exams. There are two types. The first is guaranteed issue and the second is simplified issue.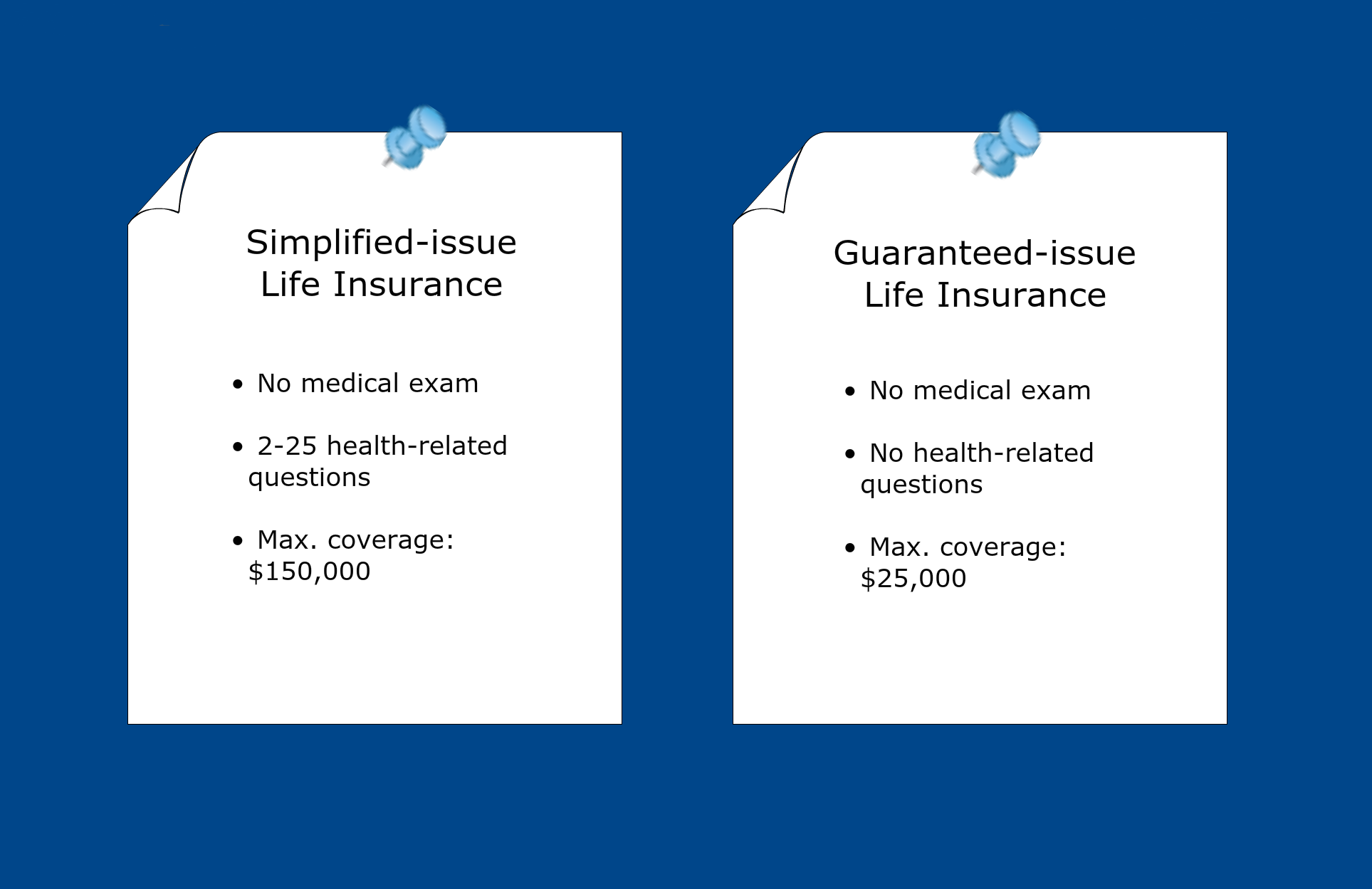 Simplified Issue Life insurance in Calgary:
This Canadian insurance product doesn't require a medical exam to qualify, but there are a number of health-related questions you must answer. These questionnaires can have anywhere from 2 to 25 or more questions. Typically, the more questions you answer, the lower your premium will be.
The maximum limit on this type of Calgary insurance policy is usually $150,000. You might not qualify for this Canadian insurance policy if you've been denied life insurance from any company in the past two years.
Guaranteed Issue Life insurance in Calgary:
On the other hand, guaranteed issue life insurance in Calgary doesn't require that you have a medical exam, and you don't have to answer any health-related questions. This Canadian insurance product is available to everyone, even those who have been declined a life insurance policy within the last two years. Typically, the coverage limit is $25,000. There are also some payout restrictions that generally apply during the first two years of your coverage. Your premiums will be returned, but the lump sum payment won't be made to your beneficiary if you die in the first two years.
Life Insurance Canada: What are the benefits of Calgary insurance without a medical exam?
If you're healthy and young, it makes sense to second-guess the need to get no medical life insurance, rather than traditional medical insurance. But it might surprise you to know there are several benefits. Such as monies to cover funeral expenses, offset the loss of income, or pay off debts so they don't become someone else's obligation. For parents or the primary source of income within a family, a large portion of their household responsibility becomes vulnerable when they pass away.
When you buy this type of Canadian insurance policy – no medical life insurance – you're covered for a certain amount when you pass away; which will be disbursed to your chosen beneficiaries. But, at the time of guaranteeing this payment for them with your no medical insurance policy, you're asked certain questions so that the Calgary insurance company can determine if you're insurable and how much they should charge you for premiums.
Because it's so easy to apply for, no medical life insurance in Calgary is suitable for those who suffer from health issues like diabetes. Canadians with riskier lifestyles, such as those in extreme sports or with dangerous jobs; or people who simply want to be insured right away, are also frequent customers of this type of life insurance.
Three Reasons Why Everyone Should Get Life Insurance Coverage
Freedom of choice

– While many employers offer life insurance coverage, the coverage may not be the right amount or if you leave the company, premiums might be more expensive to keep the same coverage. Buying your own individual life insurance plan allows you to have the coverage you want at the price you can afford, without worrying about cancellations or premiums rates going up.

Peace of Mind

– You have worked hard to get to where you are and if something were to happen, what happens to those left behind. There are many different types of life insurance out there and they can be worked into wills and designed to help you pass on a legacy or protect children or other dependents.

It can benefit everybody

– One of the things that you learn in insurance is that life insurance can help everybody in one form or another. Especially in situations where others rely on a person, making sure that person is covered – even if they are hard to insure – is important. Whether it is a business purchasing key man insurance, a new parent purchasing a policy for themselves, or as a backbone in creating a Henson Trust for a disabled relative, life insurance can be used in many different situations to ensure a safer future.
Why No Medical Life Insurance
No Medical Life Insurance is one of the only independent life insurance brokerages out there that specializes in insuring people who are hard to insure. Started up by Tamara Humphries, an independent insurance broker, we realize that not everyone fits the same mold and that lifestyle choices or medical issues should not be the only thing that determine whether or not protection is available – or affordable. We work for our clients, not the insurance company, so our clients will always be offered the best possible plans at the best possible rates. How do we do this? An independent life insurance broker does not work for one company alone but can pick and choose which insurance company will suit a client's needs the best. A simplified issue plan from one may be better than a guaranteed issue plan from another, and we will work with you every step of the way, making sure that it is the right fit.
What should I avoid when buying no medical life insurance in Calgary?
In Calgary, the biggest mistake people make when they buy no medical life insurance is the same as with any other Canadian insurance: they don't understand what they're buying or know exactly why they're buying it. As well, they often don't know what their alternatives are.
Let's explain the policy. If you're buying guaranteed issue life insurance in Calgary, remember that there's no underwriting completed. This creates a "what if" when it comes time to payout of the claim. This means you should be cautious when you complete your application. Experts from NoMedicalLifeInsurance in Canada recommend that their clients disclose as much to the insurance company as they possibly can. If there's a question that asks you if you've smoked in the last five years and you quit just six years ago, make sure you tell them that and also put it in writing.
When it comes to life insurance in Canada, a major mistake many people make is they don't get help from a life insurance broker who works with several Canadian insurance companies. Many insurance professionals call themselves brokers, but they actually only work with a handful of companies. Ask if your broker works with all the carriers on Canada, or just a select few. The more he or she works with, the more options for you to get the coverage you need.
Bottom line – be careful and be sure to rely on a Calgary insurance expert's opinion
When dealing with financial matters, you're urged to consult a financial advisor for investment, legal, or tax advice. The same is true for insurance in Calgary. Buying life insurance has a serious impact on your life. It's free to speak with a broker, and your conversation has no obligation to purchase. Get the facts you need today so you understand why you need life insurance, and how your policy works.
Our insurance advisors will assist you with finding the best insurance option as we work with
more than 20 insurance companies
. We look forward to hearing from you – simply complete the form above.