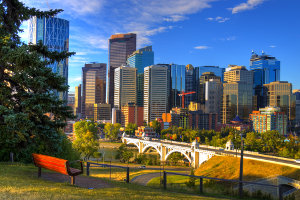 No Medical Life Insurance is proud to serve the people of Montreal. One the oldest and most beautiful cities in North America, Montreal is rich with stories untold. With a population of over 1.6 million people living and working in it (2011 Census), and an average age of 38.4 years old, it is a vibrant, bustling city full of life and history, with it's own unique challenges and experiences.
At No Medical Life Insurance, we know that each city has it's own character and we recognize that the people we serve deserve insurance that meets their needs. One area that Montreal differs with other cities is in the size of households in it. Over 40% of private households in Montreal are one-person households (2011 Census). People that live alone and are younger have different life insurance and health insurance needs than those who have children or have retired. Whether it is critical illness coverage or no medical life insurance, we can offer life insurance quotes from some of Canada's best-known life insurance companies, allowing our clients to find the coverage that suits their needs best.
Continue reading
below
or
fill out the form below to get a life insurance code tailored for your particular situation
Get your quote for life insurance for people with preconditions
---
---
Why buying life insurance young is important
Life insurance is something people don't often think of as needing when they are in their twenties or thirties, but by getting covered younger you can save more than just money. Life insurance, whether permanent or term insurance is considerably cheaper to buy when you are twenty-five than when you are forty-five. That is because as we get older we are more likely to have medical conditions like heart problems or diabetes develop, which impacts the cost of insuring a client. Not only would a younger adult have lower premium costs, they also have a wide range of choices when it comes to insurance companies. Another reason why insurance is important is planning for the future.
Insurance can help protect your interests
Say you are the young CEO of a successful media consulting firm. You have put in long hours and have taken advantage of Montreal's artistic and business scene. The company you grew out of a one-bedroom apartment is about to take the next step. You have also just started a family. One way that life insurance can help in situations like these is called key-man insurance. The business purchases a life insurance policy on an invaluable employee (or CEO in this case), and in the event of their passing this insurance can act as a vehicle to cover the cost to the business. It can be used to purchase their share of the company, paying out the proceeds to the family left behind, or if there is no family, to protect the business while they look for a replacement. As well, many people who do not have family to protect purchase life insurance to leave a legacy behind. More than just covering funeral costs, they can be used to support charities, create scholarship funds or in other ways.
Hard to insure? Not a problem
There are many reasons why people of any age can be hard to insure. Whether it is a high risk lifestyle, travelling to far off places or due to health conditions, being hard to insure is not a life sentence. At No Medical Life Insurance, we were created to help provide coverage to people who may otherwise be unable to find it. We offer two types of no medical life insurance: simplified issue and guaranteed issue, both of which are available to almost all our clients. Simplified issue life insurance has no medical exams, and only a short medical questionnaire. Guaranteed issue is just that: guaranteed, with no medical exam and no questionnaire, so even the hard to insure can find coverage.
Our insurance advisors will assist you with finding the best insurance option as we work with
more than 20 insurance companies
. We look forward to hearing from you – simply complete the form above.
---