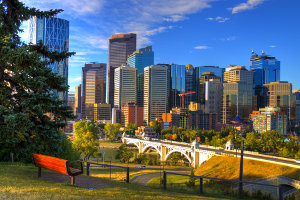 Calgary is home to just over one million residents (2011 Census), with a large proportion of them being between the ages of 20-49. Of the 464,000 households residing, over 57% of them are couples, both with and without children. A large metropolis with a small town heart, Calgary is one of Western Canada's largest economic powerhouses. Calgary is home to many oil and mining companies, as well as technology firms, publication houses, and being the city our Prime Minister hails from. A largely English-speaking city, it is also home to a growing community of people from all over the world, there to embrace the challenges and rewards of being at the heart of a Canadian economic engine.
Finding the right fit
At No Medical Life Insurance, we understand that the insurance needs change over time. A single person in their twenties does not need the same coverage as someone married with children does, and priorities shift as circumstances change. Life insurance is not about paying for a funeral, but about protecting those that can be left behind. And whether you are a tradesperson working a twelve hour shift, a CFO handling multinational accounts, or a new arrival hoping to start a better life, we can find the right coverage for you. We offer both simplified issue and guaranteed issue no medical life insurance plans, critical illness coverage, health insurance, and provide life insurance quotes on both permanent and term insurance plans from a wide range of companies to find the one that suits you best.
Continue reading
below
or
fill out the form below to get a life insurance code tailored for your particular situation
Get your quote for life insurance for people with preconditions
---
---
Three Reasons Why Everyone Should Get Life Insurance Coverage
Freedom of choice- While many employers offer life insurance coverage, the coverage may not be the right amount or if you leave the company, premiums might be more expensive to keep the same coverage. Buying your own individual life insurance plan allows you to have the coverage you want at the price you can afford, without worrying about cancellations or premiums rates going up.
Peace of Mind- You have worked hard to get to where you are and if something were to happen, what happens to those left behind. There are many different types of life insurance out there and they can be worked into wills and designed to help you pass on a legacy or protect children or other dependents.
It can benefit everybody- One of the things that you learn in insurance is that life insurance can help everybody in one form or another. Especially in situations where others rely on a person, making sure that person is covered—even if they are hard to insure—is important. Whether it is a business purchasing key man insurance, a new parent purchasing a policy for themselves, or as a backbone in creating a Henson Trust for a disabled relative, life insurance can be used in many different situations to ensure a safer future.
Why No Medical Life Insurance
No Medical Life Insurance is one of the only independent life insurance brokerages out there that specializes in insuring people who are hard to insure. Started up by Tamara Humphries, an independent insurance broker, we realize that not everyone fits the same mold and that lifestyle choices or medical issues should not be the only thing that determine whether or not protection is available—or affordable. We work for our clients, not the insurance company, so our clients will always be offered the best possible plans at the best possible rates. How do we do this? An independent life insurance broker does not work for one company alone but can pick and choose which insurance company will suit a client's needs the best. A simplified issue plan from one may be better than a guaranteed issue plan from another, and we will work with you every step of the way, making sure that it is the right fit.
Our insurance advisors will assist you with finding the best insurance option as we work with
more than 20 insurance companies
. We look forward to hearing from you – simply complete the form above.